YOU COME AT THE KING,
YOU BEST NOT MISS
---
Game Time Start:
:00 PM ET
Where:
Quicken Loans, Cleveland, OH
Officials:
Marc Davis (#8), Sean Corbin (#33), James Williams (#60), Nick Buchert (#3)
Media Notes:
Indiana Notes
,
Cleveland Notes
Television:
Radio:
WFNI 1070 AM, 107.5 FM / WTAM 1100 FM
NBA Feeds:
NBA Audio & Broadband League Pass (subscription req'd)
REMINDER: Per PD policy, please do not share a link to, describe how to search for, request a link to, or request a PM about streaming video of a NBA game that is not coming directly through the NBA. Not even in a "wink-wink, nudge-nudge, know-what-I-mean" round-about sort of way.
Thank you
0

42-41
Away: 13-29
Season: 1-4

1

52-31
Home: 32-10
Season: 4-1

April 20

April 23

April 25

TNT - 7:00pm

ABC - 1:00pm

TBD - 7:00pm
TURNER

YOUNG

GEORGE

ELLIS

TEAGUE

THOMPSON

LOVE

JAMES

SMITH

IRVING
PACERS
Glenn Robinson III - probable (left calf strain)


CAVALIERS
None



Switch not flipped: Cavs escape Pacers on final possession of playoff opener
Eric Freeman
The Cleveland Cavaliers began the 2017 playoffs as favorites to make the NBA Finals for a third-
consecutive season, but that status came with some big qualifiers. The defending champions
spent the last several months of the regular season in a defensive funk, registering as one of the
least efficient units in the league and generally seeming to coast under the assumption they could
flip a switch for the postseason. The question in Saturday's playoff opener against the No. 7
Indiana Pacers is whether that process would happen immediately or if the Cavs would need more
time to round into championship form.
It's safe to say Cleveland's not quite there yet. The Cavs escaped Saturday afternoon's Game 1
with a 109-108 win, but the quality of performance and course of the final few minutes suggest
that this first-round series against a 42-win opponent could be much tougher than most analysts
expected.
That's largely because the Pacers had a clean look to win it in the final seconds. Down just one
point with 20 seconds on the clock, Indiana handed the ball to Paul George to make a play out of
a timeout. The Cavs brought a double team to force it out of his hands, and C.J. Miles missed a
fairly open jumper to end it.
Video stills showed Lance Stephenson open under the basket as the double team came to
George, but that's arguably a pass only LeBron James makes effectively. The greater indictment
of Indiana's play is that they seemed to have no Plan B if George had to give up the ball.
LeBron said in his on-court post-game interview that the plan was to let anyone but George
shoot, and it's fair to say it worked. However, a title contender would hope to not have to resort
to the luck of a missed game-winner in the first round. The most logical reaction to this result for
a Cleveland fan would be one of relief, not confidence that everything had gone according to plan.
Even worse for the Cavs, they had to come back themselves late in the fourth quarter. Up 103-94
just inside the 7:00 mark, Cleveland saw Indiana go on an 11-0 run to take a 105-103 lead on a
Jeff Teague three-pointer with 3:31 remaining. Yet that surge only inspired James to take over.
LeBron followed immediately with this thunderous dunk to tie it:
James assisted on Kyrie Irving's go-ahead jumper on the next possession, as well, and the Cavs
had suddenly regained control of the game. Yet those big plays were just a portion of his near-
constant contributions to the Cavs' win. LeBron finished with a game-high 32 points (12-of-20
FG, 2-of-3 3FG, 6-of-9 FT) and 13 assists in 43 minutes in a full demonstration of his offensive
abilities and his intention to impress himself upon this postseason just as he did in 2016. If
nothing else, any struggles the Cavs have as a team can quickly be answered by a few
transcendent moments from the best player of his generation. LeBron can cover plenty of
weaknesses by himself.
The question is...
CONTINUE READING AT BALL DON'T LIE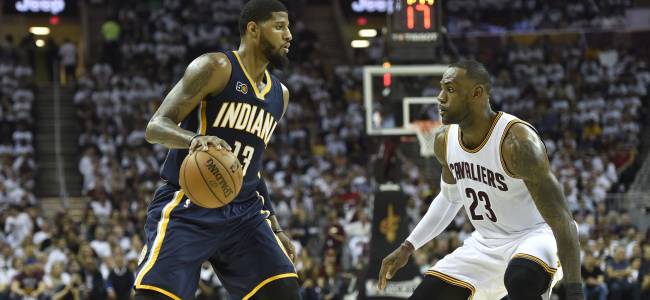 The Cavaliers didn't restore our confidence in them
Tim Cato & Whitney Medworth
Game 1 was an "old" school throwback, with Paul George facing up against LeBron James in a
rematch of those Pacers-Heat series we adored just a few seasons ago. (It really doesn't feel
forever ago; teams rise and fall so quickly in the NBA, it's incredible.) As a game — with Lance
Stephenson showing off, and it coming down to a final shot — it was great. As a reassurance
that Cleveland is the team to beat in the Eastern Conference, however, it did little to assuage
our questions.
The biggest one is obvious: can Cleveland defend at a championship level? They did last year,
finishing 10th in the league in defensive rating and winning a 93-89 game akin to trench
warfare in taking the championship. This season, though, their defensive effort has been
tragic. They boast a 108.0 defensive rating, which ties them for 23rd best in league. You can
rattle off three, four or five reasons for that if you want, and they're mostly valid. But the fact
of the matter remains: in the 2016-17 season, Cleveland hasn't proven their defense is
championship quality.
Yes, that's concerning.
It's even more concerning when Cleveland goes out and lets Indiana — the 15th best offense
— drop 108 points in a loss. One makeable C.J. Miles jumper, and the Cavaliers would have
been playing from behind. All season, even more than the past two, Cleveland has done things
that makes us frown and tweet out thinking face emojis. "Hmm," we said, "are they really
going to snap out of this?" We know they can, and after erasing a 3-1 deficit last finals, it's
hard to doubt them. So when we throw out a couple questions about whether this team is
conference championship material — forget whether they can battle Golden State, because
they almost assuredly cannot — take that seriously. People aren't doubting Cleveland just to
doubt Cleveland. We're questioning them because they have given us so many reasons we
can't ignore them anymore.
Yes — Cleveland can snap out of this. Everything we just said, and every discernible flaw that
exhibited itself this season, and it may still be fine. The Cavaliers still have the same personnel,
more or less, as last year. There's no concrete reason for something they accomplished last
year to fall outside of their grasp in this one.
But we thought...
CONTINUE READING AT SBNATION