I'VE HAD IT WITH
THESE MOTHERBUCKING
DEER ON THIS
MOTHERBUCKING PLANE!
-VS-
---
Game Time Start:
8:00 PM EST
Where:
BMO Harris Bradley Center, Milwaukee, WI
Officials:
J. Capers, T. Brown, D. Collins
Media Notes:
Indiana Notes
,
Milwaukee Notes
Television:
FOX Sports Indiana / FOX Sports Wisconsin
Radio:
WFNI 1070 AM / WTMU 620 AM
NBA Feeds:
REMINDER: Per PD policy, please do not share a link to, describe how to search for, request a link to, or request a PM about streaming video of a NBA game that is not coming directly through the NBA. Not even in a "wink-wink, nudge-nudge, know-what-I-mean" round-about sort of way.
Thank you
3-5

Away: 1-4
East: 2-3

4-2

Home: 1-2
East: 4-1

Nov 14

Nov 16

Nov 18

Nov 19

8:00pm

7:00pm

12:00pm

7:00pm
HIBBERT

WEST

GEORGE

STEPHENSON

HILL

DALEMBERT

ILYASOVA

HARRIS

ELLIS

JENNINGS
PACERS
Danny Granger - left knee tendinosis (out)




BUCKS
Luc Mbah a Moute - right knee surgery rehab (out)

Jared Wade: Indy Plays So Bad that Even Historic Defense Doesn't Allow Come Back
Right before the game, Pacers' coach Frank Vogel said that his team hadn't been able
to put together a complete game so far this year. They had shown flashes in each,
but it always fell off the rails at some point. "The first six games we had a stretch in
each game where a certain unit just got waxed," said Vogel.
Tonight, that stretch lasted about 30 minutes. Indiana started off the game like
gangbusters, forcing turnovers and getting out on the break. Before long their easy-
bucket-aided offense looked swell and they were up nine. Then, nothing remotely
good seemed to happen for a half-hour of game time. The fourth quarter was better,
in the sense that the offense looked to re-find itself as Tyler Hansbrough and George
Hill reanimated a team that had looked like a waste of jersey detergent for much of
the night.
Unfortunately, as the Indiana defense put the clamps on a gassed Toronto offense,
the Pacers just couldn't make shots. They were getting good ones, too, for the first
time all game (although they also passed up a few good jumpers they should have
taken). For the game, they shot 16-for-38 inside 8 feet, and an impressive 0-for-5
from 8 to 16 feet, according to NBA.com.
Here is their fourth quarter shooting chart. At first glance, it may look like more
mid-range jumpers than you would want. But two from to the top of the key by
Gerald Green and Hill were both fine looks in rhythm so they weren't all ill-advised.
Moreover, look at all the missed shots in the paint.
The important part to getting some good looks was the spacing: They were
spreading the floor, getting both ball and player movement for the first time
all night. They looked good after dozens and dozens of terrible, wasted, awful
possessions.
And on the the other end, they were truly excellent, as the Raptors couldn't
even conceive of getting a good shot.
Just look at all those Xs. They shot 1-for-15 in the quarter. That is 6.7%. Six.
Point. Seven. And they won. Which was historic....
CONTINUE READING AT 8p9s
Danny Granger vs. Luc Mbah a Moute: Indiana Pacers SF breaks the mold

Indiana Pacers SF Danny Granger has done something LeBron James, Kevin Durant
and Carmelo Anthony have not over the course of the last three seasons: he has
played well against Milwaukee Bucks SF Luc Mbah a Moute.

Milwaukee Bucks forward Luc Mbah a Moute is perimeter defense expert who has a
proven record of suppressing scoring stats for NBA stars like LeBron James, Kevin
Durant and Carmelo Anthony. Surprisingly, Indiana Pacers small forward Danny
Granger has fared better than anyone in the aforementioned trio when going against
LRMAM. Granger is not as strong or as quick and LeBron, he's not as accurate from
long range as Durant and he's not as talented as Melo, but he is the only one who
boosted his production against Luc. It's Granger than fiction...

...unless it's not. To take my initial point at face value would be risky. Nay, it would
be downright Grangerous. The comparisons to LBJ, KD and Melo are a double-edged
sword. Production is graded out relative to normal averages, and Granger doesn't
match the baseline numbers those other three guys have put up in most scoring
categories.

It's the problem I've pointed out with Brandon Jennings many times: improvement
from a low baseline level does not always imply better production than what occurs
with a decline from a high baseline level. Even so, Granger has somehow managed
to play better against LRMAM than he has against the rest of the league, which isn't
something many players can say.



What are you doing?


I've combined three seasons worth of stats for each player in a select group of top-
end perimeter scorers (Danny Granger in this edition), and compared production
levels to when Luc Mbah a Moute is on the court with that player. The basic
assumption is that LRMAM matched up with Granger in man-to-man situations, or
at least that he made a direct impact on Granger's production. If we can't assume
that much, what's an ace perimeter defender good for anyways?



What does it mean?


The sample size for each on-court "matchup" is too small to be predictive of future
performance -- LRMAM and Granger shared the court for 223 minutes over the last
three years -- so the findings are merely descriptive. In other words, this is a strict
evaluation of what has already happened, not any grand pronouncement that future
matchups will proceed along the exact same lines.



What did you find?







Notes & Observations


Granger manages to play well against Luc in part because he's not a star player of
the magnitude of LeBron James, Kevin Durant or Carmelo Anthony. Danny gets to
play off-ball...CONTINUE READING AT BREW HOOP
Small Market Mondays #2: "The Buck Stops Here!" Mike Dunleavy MVP Watch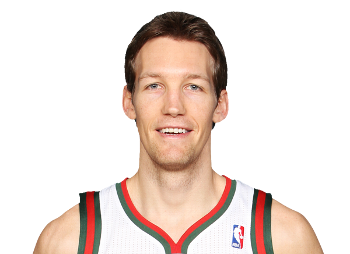 Former Indiana Pacers superstar Mike Dunleavy, heavy favorite in the 2012-2013
MVP race, was posting an astronomical PER of 27.12 on 70% shooting and leading
his beloved Buckaroos to an undefeated record at this time last week. Until they
played the powerhouse Grizzlies, that is. The Bucks lost that game by 18 as
Dunleavy only made 4 of 10 shots but that wasn't the worst of it. After thoroughly
handling the Wizards on Friday night, Dunleavy received some terrifying news:
his father was in consideration to be the next coach of the classless Los Angeles
Lakers. This terrible news rocked Dunleavy to his very core as his posted a season
low 14 minutes in his next game against the Celtics, a 4-point loss which they
definitely would've won had their MVD ("Most Valuable Dunleavy", not "Most
Venereal Disease") not been traumatized by the news. He became so angered at
these developments that he flew into a fit of understandable rage and tried
desperately to exact physical revenge on the Celtics, fouling 4 times in his 14
minutes! Should he not be able to get over this disgusting news, we might be
forced to change our MVP watch to another deserving Small Market Superstar.
Sometimes, the brightest stars really do die out the quickest.